2013-08-28
notes 22:16:50
Why would I see a film three times?
On Saturday, I saw Pacific Rim in the cinema. I'd also seen it on the weekend of release, in IMAX 3D, and in mid July, in 2D. Evidently, there's something I like about it.
I've seen other films at a cinema multiple times — Blade Runner and 2001: A Space Odyssey are the most obvious examples — but never before have I rewatched a first-run film, at least not that I can remember. I'll be the first to admit that Pacific Rim isn't up to the standard of those two science-fiction classics, but it obviously has something going for it, despite the fact that many of my friends felt it was lacking. What is it, and why don't they see it?
I think it's Tumblr, and fandom more generally.
I remember having a bit of a discussion about the relationship between Raleigh and Mako as I came out of the film the first time, as I'd already noticed how unusually (but pleasantly) unsexual it was, but it wasn't until I started tagsurfing Pacific Rim on Tumblr that I realised other people had noticed the same thing. The fine folk of Tumblr had also noticed many similarly interesting decisions: the respect for non-American culture, avoidance of civilian casualties, valuing working together over strength, visual intelligence, careful use of insults, subverting the male gaze and dragon lady, and costuming.
Then there was the fact there was an obvious and instant fandom, gender-bending the characters, shipping Newt and Gottlieb, discussing their disabilities — and how little they count for within the film — with famous science fiction authors singing its praises. Hell, there's even been a JaegerCon, on the day that Trespasser came ashore in San Francisco.
Yes, I even know the names of the kaiju that are barely on screen. (Shut up.)
With all of that, it's not surprising that I reacted to a grumpy day at work by going and re-watching, catching all the things I'd missed, listening again to the sounds, voices, and music, and it just cheered me up. I was able to leave it a few weeks, but once I saw that the DVD wouldn't be out until at least October, I thought I'd catch it again.
Pacific Rim isn't exactly original — it's a fusion of two venerable genres — and it's not exactly realistic either. That said, it's more novel than Comic Book Franchise Film 3: The Conclusion, better-directed than any other science fiction film I've seen this year, and generally just damned good fun. Why wouldn't I see it more than once?
(This post is also on Medium.)
2013-08-14
chaff 18:20:00
Ever since Twitter hid at-replies from people who weren't mutual followers, I've had cause to wonder how many people are seeing the conversations I seem to be taking part in.
I remember, even just a couple of years ago, there being a few web sites that let you put in two usernames and see who was following both, but there are two problems with that:

They were usually really badly designed
I couldn't find any of them recently
they never did seem to like the fact that my main account is protected
That being the case, I thought it'd be a good little project to hack on. Fetching and calculating the overlap was pretty straightforward, and I had the idea that I'd like to represent the followers of both users, along with their overlaps, with a Venn diagram. It wasn't too hard to get this drawing with d3, but it took a while to completely straighten out all of the maths.
Once I had the app up and running, I found the real reason there probably aren't any of these services any more: Twitter's API rate limits. In particular, intersect makes a lot of use of the /follower/ids call - understandably, since the whole point is the overlap of followers - which gets 5,000 followers at a time, but is limited to 15 calls per 15 minute window.
What does this mean for a user? Well, if you're following normal-ish people, then you can only look up a few of them every quarter of an hour. After that, the app echoes the error Twitter returns: 'rate limit exceeded'. If you try someone with hundreds of thousands of followers, the app will just fail.
I've thought about putting in a counter, either raw or as a percentage, and also of detecting users who'd require more than a few calls to /followers/ids/ and refusing to work for them. (Alternatively, I could only consider their most recent ten thousand users. I may yet do that.)
For now, though, I seem to have reached a point where I'm happy to stop writing code, finish this write-up, and let the app hang out on Heroku for as long as it wants. If you're curious about the code, it's on Github. Meanwhile, I can happily check that when I have a spirited conversation with @whoisdanw, only sixteen people are likely to be subjected to it.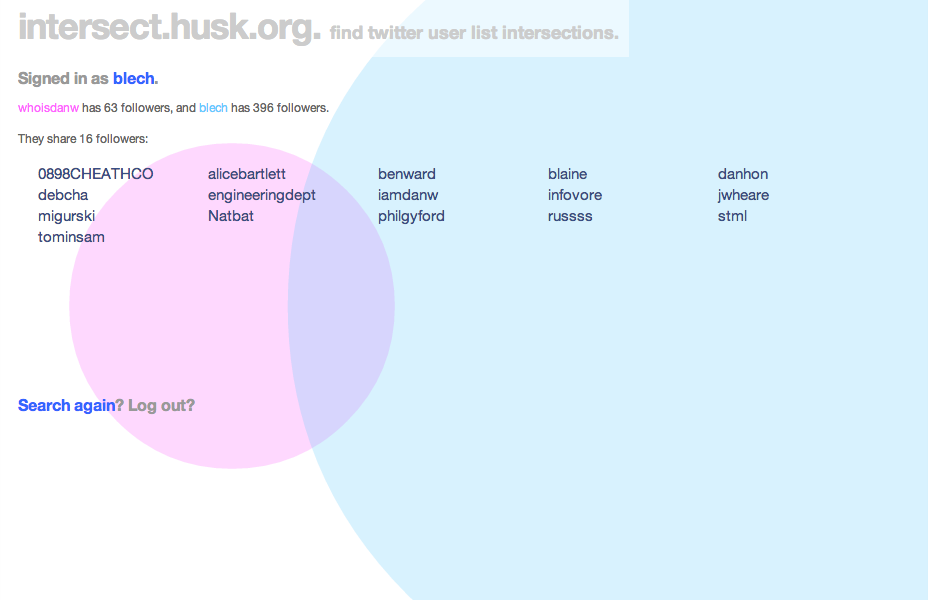 (Oh, and thanks to Fiona Miller, who did some sterling work on colours, as well as thinking through user interactions, and Tom Insam, who came up with the good idea of colouring the users to match the circles representing their follower counts. They were invaluable in making the site look lovely.)